Testimonials
The following testimonials were written by just some of my happy sellers and buyers. They have all been kind enough to give me permission to show you their correspondence. Their letters and words are very gratifying. It seems that my down-to-earth and honest approach has earned me many friends - I think that's fantastic!
I couldn't have asked for better...
I couldn't have asked for a better, more attentive real estate agent. This being my first sale, I had many questions and concerns about the process. Mrs.B and her team were there for me throughout the sale of my home, always willing to answer questions, putting me at ease. My place was listed quickly and sold in a very timely matter in a buyer's market. I was able to get the price I wanted, even though another realtor said it should be listed much lower. Mrs.B and Stephanie take time to get to know their clients and listen to their needs. I would definately use them again!
-Tracy
Truly the best!!
It's so nice to work with such a genuine and honest person!! Truly the best!!
-Lorraine
I would highly recommend...
I would highly recommend Bonnie "Mrs.B" she worked very hard to sell my home, with success. Not only did I get an awesome real estate agent, I made a friend... :)
-Janice
We are very grateful to Bonnie...
We are very greatful to Bonnie for making our move to Chilliwack stress free. Bonnie was always available via phone & email. Bonnie helped us out, by doing our walk through for us, so we would not have to make another trip, before our move. We thank Bonnie very much, for her time & support.
-Frank & Kari
First Home Purchase
This was our first home purchase, Bonnie made the whole process very positive. She is very knowledgeable with all aspects of real estate. We will use her services again in the future for our next move.
-Catherine & Dallon
Great working with you!
Our buying experience was as fun as it was professional! Great working with you Mrs.B!
-Christine & Nathan
Couldn't have asked for anymore!
We couldn't have asked anymore from our real estate agent. Everything from faxes, to emails, to drives around the city, it was always a yes from you. Your honesty, loyalty and willingness to please makes you the terrific person you are
Myles & Elaine
Effective Communicator!
Bonnie is an effective communicator and people always like her way of doing business!
Brian
Exceptionally postive...
Bonnie and her team deliver a very comprehensive, professional service in a relaxed, no pressure style. They go out of their way to create an exceptionally positive home buying experience.
David
Nov 2012
She Rocks!!!
Very happy with service! We would definately use Bonnie again - she rocks!!!
What every realtor should be!
Bonnie is the real thing - what every realtor should be - professional, helpful, enthusiastic and committed to making your sale! She sold our place in 3 weeks - after a year on the market with other firms. Highly recommend Bonnie.
-Audrey
Fun & Cheerful Adventure
The experience we had with Bonnie as we explored homes in the market was exceptional. She as very informative but not overbearing. Her pleasant and friendly character made the day a fun and cheerful adventure
-Christine
Mrs.B exceeded the others
I have sold many homes in my life-time ,using many relators .Mrs. B by far exceeded the others. She is both professional, but also compassionate to the sellers needs. She really works for you , and it shows in her interactions with her opponent, while closing a deal. She sold my home and found me a new one all in two months. Way to go Bonnie.
-Yvonne
Outstanding realtor
We found your service awesome. It was so much easier to work with you. You kept it really simple and you are an outstanding realtor
-Ryan
Very Professional
Bonnie was recommended by a friend of mine - it was a good recommendation. Bonnie went out of her way to make the sale as pleasant as possible. Nothing was too much trouble, we felt free to phone her anytime. A VERY professional realtor.
-Nora
Bonnie is the real deal...
Bonnie is the real deal... We have dealt with Bonnie on selling and purchasing Real Estate... Bonnie does what she says and then more... Bonnie is very personable and a joy to work with. Above all, Bonnie is very Professional, honest, detailed and always respected our decision.
-Gord & Rose
Great Job, very determined...
Great job, very determined and responds quickly to emails and phone calls.
-Jack & Colleen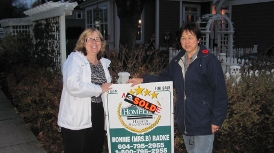 Bonnie goes the extra mile or two or ten...
Bonnie is very personable and goes the extra mile or two or ten for her clients. We would absolutely recommend her as an agent. We never felt pressured to lower our asking price or have more open houses. She left the decisions up to us and that was appreciated. She always kept in contact about each and every showing. Her help with the buying of our new home was also a wonderful gesture even though she did not have to do this. We hope to keep in contact and remain friends with Bonnie in the coming years.
-Brian & Janet
Went the distance
Bonnie and Stephanie both went the distance of finding info about various properties, researching info regarding utilities (septic, water, etc). Knowledgeable of the areas the homes were located. Very patient and willing to keep on looking for the right home and not pressuring into a sale. Gave her opinion as to nice or not so nice an area or house.
-Larry & Nancy
Buying and Selling Easier to Understand!
Bonnie made buying and selling easier to understand and handle.
-Barb
She Went Above and Beyond!
Mrs B is one of the nicest people you will ever meet. I would highly recommend her to anyone buying or selling. She really takes the time to make you happy and help in anyway possible. Without Mrs B I wouldn't have become a home owner. She went above and beyond!!!
-Brittany
First Time Seller
Mrs. B made my first time as a real estate seller an comprehensive and comprehendable experience.
-Muriel
#1 vote as the BEST real estate agent
Dear Bonnie,
I've never met anyone like you. You're completely won my trust by the ready information you always had available. You were professional and available and your kindness above & beyond the business end was amazing. You have my #1 vote as the best real estate agent in Chilliwack. I shall never hesitate in recommending you.
Thanks a million,
-Janet
Thank you Mrs.B
I have greatly appreciated the patience Mrs. B has had in what was a very trying negation for her. Her ability to stay calm as the client loses it was awesome. Finding the right property was made easier because Mrs. B listened to what I wanted. Her personal interest makes the client feel very important. Thank you Mrs. B.
-Gis
Exceeded Expectations!
Exceeded all expectations..treated us just like family!
-Maggie E.
Great experience
Great experience from beginning to end. I always felt very comfortable and appreciated being with an experienced and honest realtor. This team was amazing and I couldn't have asked for better!
-Lorraine F.
Very Very Pleased...
We recently worked with Bonnie Radke looking at condos in sardis. We were very,very pleased with Bonnie's knowledge of the area, insights, professionalism and especially her personality in dealing with our questions and property search in Sardis. We live in Kamloops and she always was able to make herself available to us. Although we decided to stay in Kamloops and purchased a modular home here this week, it was a pleasure working with her. We spoke to her this week and she was very pleasant and gracious. We think you have a real GEM in Bonnie and will recommend her to anyone looking for a home in the chilliwack area. Thank you and Bonnie Radke!
Bonnie is an outstanding agent!
Bonnie is an outstanding agent! She explained the selling process completely and throughly. In addition, she noticed the specifications on our house were inaccurate and had the house re-measured. At every step Bonnie explained what we could expect and what was expected of us. We were given advance notice of all showings. I do not hesitate to recommend Bonnie for your real estate needs. - Doreen & Peter